Univeco-SK-01
Concentrated acid detergent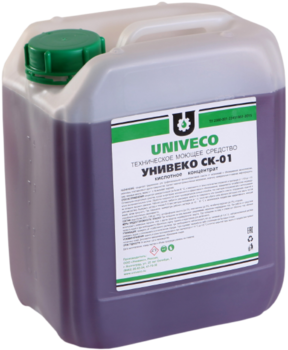 Univeco-SK-01 is an acid concentrate based on an electrochemical aqueous solution of complexones, organic and inorganic acids, ionic and nonionic surfactants. Designed for professional cleaning of metal surfaces from rust, oxides, lime deposits, grease, fatty deposits and synthetic oils. Create a protective phosphate layer that Allows to prepare the surface for applying paint, electroplating, polymer or other coatings. Non-corrosive.
Price
Packing
1 L (bottle)
5 L (canister)
10 L (canister)
20 L (canister)
30 L (canister)
Delivery
We carry out delivery throughout Russia by any transport company convenient for you.
FREE SHIPPING on purchases оver 100 liters batch. Special conditions for regular customers.
Delivery department:
8-800-550-18-78
Effective for removing rust and loose scale from metal and other surfaces, cleaning any industrial equipment;
Produced on a water basis which reduces the risk for humans, the environment and the cleaned surface;
Does not cause corrosion of metal surfaces, inert towards polymers, rubbers and paint coatings;
Used before applying a primer, paint and varnish, galvanic, polymer or other coatings;
Explosion-proof, biodegradable.
Appearance:
transparent slightly colored liquid
Density at 25°C, g/sm³:
1,1 ± 10%
pH (1% aqueous solution):
не более 3
transparent slightly colored liquid
red
1,1 ± 10%
< 3
Кислота для удаления ржавчины отделяет загрязнения от поверхности без образования химических соединений, не оказывая отрицательного воздей–
ствия на очищаемую поверхность. Купив очиститель металла Унивеко-СК-01, вы сможете регулярно производить очистку неагрессивными веществами материально-техническую базу, что существенно продлит срок ее эксплуатации.
Univeсo-SK-01 is an effective rust stain remover
the cleaner works pretty nice for:
cleaning of industrial equipment;
preparing surfaces before applying a primer, paint and varnish, electroplating, polymer or other coatings;
replacement for white spirit, acetone, kerosene and other organic degreasers.
With the Univeco-SK-01 cleaner one can both process metal surfaces degrease and clean the working space from dirt and corrosion stain. Light phosphate coating remained after treatment will significantly improve the protective properties before the coating. The agent is chemically stable in water and air, and does not release the harmful substances.
Univeko-SK-01 is used as an aqueous solution. The concentrate is diluted with water, depending on the type and amount of impurities, in a ratio from 1:99 to 1: 4 (1-20%). Surface treatment can be carried out either manually, by immersion or using a high pressure washer. The working solution must be applied evenly to the surface. The processing time ranges from 5 - 10 minutes to 1 - 10 hours (if immersed). Rinse the surface with water after treatment or wipe with a damp cloth and dry. The effectiveness increases significantly when heating the solution up to 40 - 60 ° C and applying mechanical action.
Recommended concentration:
1-3% for a lightly soiled and rust stained metal surfaces
5-10% for a medium soiled surfaces
20% for a heavy soiled surfaces
Storage and transportation:
Store in original packaging in a tightly closed container, away from direct sunlight at temperatures from +5 to + 35 ° C. Freezing is allowed. Retains its properties after thawing and thorough mixing. The container must be recycled or disposed of as household waste. Dispose of the working solution in accordance with the established procedure.
24 month in unopened packaging from the date of production.

DELIVERY from 100 liters - free