Univeco-25
Anti-spatter
Univeco-25 is a solution based on an electrochemically activated aqueous solution, a nonionic and amphoteric surfactant. The product is designed to protect metal surfaces, structures and welding equipment from adhesion of molten metal spatter formed during manual and automatic arc welding, laser and plasma cutting. It also protects glass, ceramics, plastics and other surfaces from hot chips and sparks when working with cutting and grinding machines. Allows welding on wet surfaces. Non-corrosive.
Price
Packing
0,5 L (spray bottle)
5 L (canister)
10 L (canister)
20 L (canister)
30 L (canister)
Delivery
We carry out delivery throughout Russia by any transport company convenient for you.
FREE SHIPPING on purchases оver 100 liters batch. Special conditions for regular customers.
Delivery department:
8-800-550-18-78
Made on the basis of electro activated water, it is environmentally friendly for humans and the environment;
High protective properties and long-term action;
Economical, no need for machining and degreasing the treating surface, easy with disposal, works well during complex and long welding operations;
Fire safe, the absence of solvents reduces the formation of vapors and the fire risk on welding;
Antispatter works as silicone-free heat-resistant barrier that does not adversely affect the adhesion of paints and varnishes;
Supplied as a solution for ease of use and reduced consumption;
Provides better contact of the electrode with the metal what make stable welding arc and improve the quality of uniform distribution of the deposited metal, density and quality of the weld;
Allows welding on a wet surface;
Used for protecting glass, ceramics, plastics and other surfaces from hot chips and sparks at work with stripping and cutting tools like an angle grinder
How Univeco-25 affects welding spatter: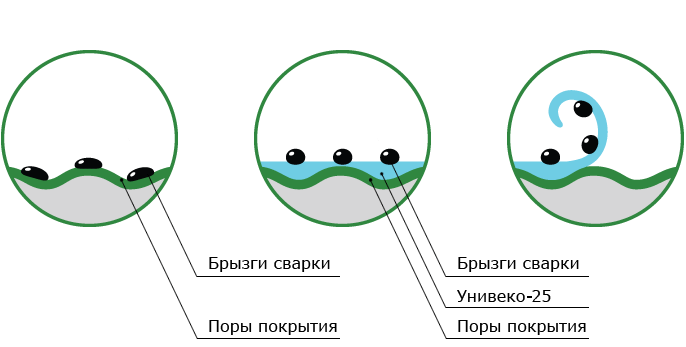 Appearance:
transparent lightly colored liquid
Density at 25°C, kg / cm³:
1020 ± 4%
pH (1% aqueous solution):
more than 8,5
transparent lightly colored liquid
purple
1020 ± 4%
more than 8,5
Univeco-25 anti-spatter is widely used in the automotive industry, mechanical engineering, in the manufacture of tanks, metal structures, etc.
Univeco-25
anti-spatter is ready-for-use and can be applied by spray or brush to the welding area approximately 100 mm wide. The product is effective both wet and dry.
Univeco-25
has a high protective effect, does not affect the quality of the weld or impair the adhesion and decorative appearance of the applied paint and varnish coating. Have no need for degreasing of joints before priming and painting. Approximate consumption (one layer) - 20-35 g / sq.meter
Storage and transportation of Univeco-25:
Store In a tightly closed container away from direct sunlight. Freezing is allowed. The container must be recycled or disposed of as household waste.
24 month in unopened packaging from the date of production.

DELIVERY from 100 liters - free