Univeco-MDS-02 ("cold fog")
Concentrate for aerosol disinfection of surfaces with virucidal and antimicrobial action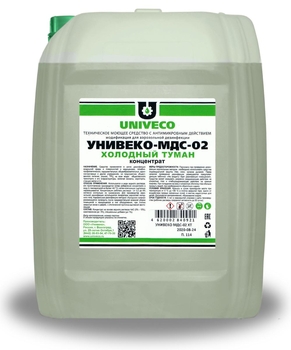 Univeco-MDS-02 is a concentrate for aerosol disinfection by the "cold fogging" method in hospitals, ambulances, medical offices, schools, athletic facilities, public areas, administrative institutions, communal services facilities, institutional kitchens, cafeterias, restaurants, public restrooms, shopping and entertainment centers, healthcare facilities, pharmacies, public restrooms, hotels, shower and bath areas, public transport, train stations, airports, metro stations, etc.
Price
Univeco-MDS-02 ("cold fog")
Packing
1 L (bottle)
5 L (canister)
10 L (canister)
Delivery
We carry out delivery throughout Russia by any transport company convenient for you.
FREE SHIPPING on purchases оver 100 liters batch. Special conditions for regular customers.
Delivery department:
8-800-550-18-78
High speed and efficiency of disinfection treatment of large rooms, including in hard-to-reach and remote places due to the uniform distribution of the disinfectant solution;
Economical due to low consumption through the microscopic size of aerosol droplets;
Inert towards metal, wood, rubber, plastic, fabric, paint and varnish coatings;
Has antimicrobial, fungicidal, virucidal effect;
Environmentally friendly, biodegradable, does not contain environmentally harmful components;
Non-flammable and non-explosive.
Appearance:
transparent liquid
Density at 25°C, g / cm³:
1,04 ± 5%
pH (1% aqueous solution):
<12
transparent liquid
not standardized
1,04 ± 5%
< 12
Composition and active ingredients of Univeco-MDS-02 - liquid for aerosol disinfection by the "cold fogging"
The main active ingredients of the aerosol disinfection concentrate Univeco-MDS-02 ("Cold Fog") are quaternary ammonium compounds (QAC) - cationic surfactants with antifungal and antibacterial action against gram-negative and gram-positive bacteria, effective means in the fight against viruses, pathogens of ARVI and infections.
Disinfectant liquid Univeco-MDS-02 ("Cold fog") contains two types of QAC:
1. Alkyldimethylbenzylammonium chloride (ADBAC) is a cationic quaternary ammonium compound. ADBAC has antimicrobial activity against various gram-negative and gram-positive microorganisms, including pathogens of tuberculosis, influenza viruses, herpes, adenoviruses, immunodeficiency viruses (HIV), hepatitis A, B, C viruses, rotaviruses, polioviruses, enteroviruses, causative agents of nosocomial infections.
2. Didecyldimethylammonium chloride (DDAC) - a cationic surfactant, belongs to the group of quaternary ammonium compounds (QAC). It is used in combination with other bactericidal compounds and has a strong virucidal, bactericidal, fungicidal, tuberculocidal, algicidal effect, is effective against gram-negative and gram-positive bacteria (including mycobacterium tuberculosis), viruses, fungi of the genus Candida and Trichophyton, as well as excellent sporicidal and detergent properties.
The composition of liquid for aerosol disinfection Univeco-MDS-02 ("Cold fog") includes complexones and special additives that give resistance to hard water and a high rate of biodegradability in wastewater.