Univeco-250
Anti-spatter liquid for robotic welding applications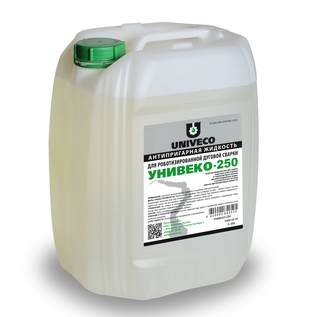 Univeco-250 is a ready-made mixture based on polymers, adhesive and antifoam additives. Designed to lubricate and protect welding nozzles from adhesion of metal spatter in robotic welding including automatic systems for injection of non-stick liquids.
Price
Packing
10 L (canister)
5 L (canister)
1 L (bottle)
Delivery
We carry out delivery throughout Russia by any transport company convenient for you.
FREE SHIPPING on purchases оver 100 liters batch. Special conditions for regular customers.
Delivery department:
8-800-550-18-78
Advantages of Univeco-250:
Univeco-250 forms a protective film on areas of the burner exposed to metal splashes and high temperatures;
High lubricating properties of Univeco-250 ensure trouble-free feed of the welding wire;
The use of liquid allows to increase the service life of the burner and its consumable parts;
No odor, non flammable, not explosive.
Appearance:
translucent liquid
Density at 25°C, g/sm³:
0,95 ± 4%
pH (aqueous solution) :
5,5 - 8,0
translucent liquid
not standardized
0,95 ± 4%
5,5 - 8,0
A presence of silicone in Univeco-250 provides both lubrication and unimpeded movement of the welding wire through the tip. Typically the use of silicone-containing compositions in welding is limited by removing difficulties of agents from the surface before painting.

Usually manufacturers of welding chemistry suggest universal silicon free water-based anti-spatter fluids positioned as for robotic welding. Its cheaper, but the torch is processed more often, this affects the performance of the robot.

Univeco-250 anti-spatter liquid for robotic arc welding has excellent high-temperature, lubricating and anti-adhesive properties, and also has the ability to firmly adhere to the torch, forming a sufficiently thick and strong protective film.

Univeco-250 has no analogues produced in Russia, the closest products by quality and properties are of more expensive foreign production.
The product is ready to use. Pour it into consumable containers according to the equipment manufacturer's recommendations.
Storage and transportation of Univeco-250:
Store In a tightly closed container away from direct sunlight. Freezing is allowed. The container must be recycled or disposed of as household waste. The product is biodegradable, fire and explosion proof, non-toxic.
24 month in unopened packaging from the date of production.

DELIVERY from 100 liters - free