Univeco Descaler
Limescale remover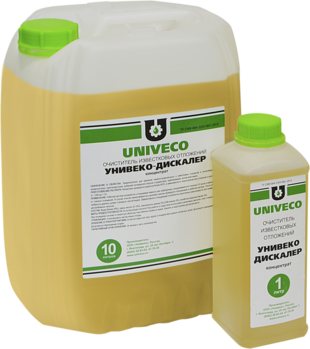 Univeco Descaler is an acid concentrate based on an electrochemically activated aqueous solution with surfactant, acids, chelators, corrosion inhibitors. The concentrate is designed to remove scale-corrosive and lime deposits in heat exchangers, condensers, steam generators, pump cooling jackets, in radiators, pipelines, boilers of all types.
Price
Packing
1 L (bottle)
5 L (canister)
10 L (canister)
20 L (canister)
30 L (canister)
Delivery
We carry out delivery throughout Russia by any transport company convenient for you.
FREE SHIPPING on purchases оver 100 liters batch. Special conditions for regular customers.
Delivery department:
8-800-550-18-78
Effectively dissolve almost all types of deposits removing limescale in heat exchangers and radiators, magnetite and rust;
Biodegradable, easy for storage and disposal;
The product can be easily unified for a specific object with maximum efficiency.
Removing lime in heat exchangers with Univeco Descaler
Use the product as an alternative to overhaul. It allows the restoration of the pipes with throughput reduced to 10-20% of its original. Choose Univeco Descaller for removing limescale deposits in heat exchangers and boilers.

The heat exchange scale deposits are the big problem in the operation of industrial and municipal water supply equipment so the removal of limescale is very important. Deposits lead to an increase of the heating surface temperatures causing metal expansion and stress corrosion. Also it stimulates both general and local iron corrosion endangering the equipment.



The effects of proposed method for flushing heat equipment:
complete restoration of the boiler pipe throughput;
reduction of electricity consumption by network water pumps;
increasing the heat transfer of the heat exchanger by descaling and reducing fuel consumption (gas, oil products, coal) as a result;
removal of deposits of corrosion products contributed to the development of steel pitting corrosion that drastically reduces pipelines service life;
increase in the service life of pipelines and equipment without major repairs.
Action of Univeco Descaler: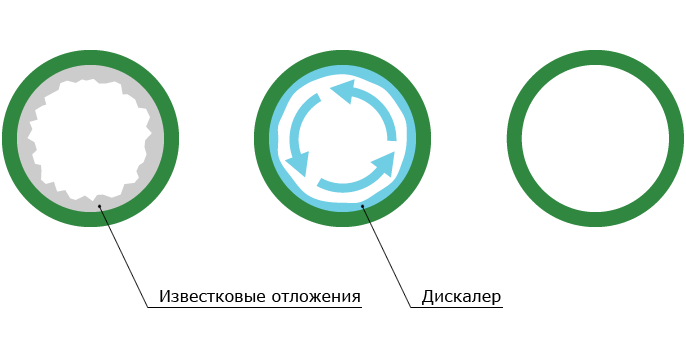 Appearance:
slightly cloudy liquid
Density at 25°C, g/sm³:
1,1 ± 4%
pH (1% aqueous solution):
1,0 – 2,0
slightly cloudy liquid
light yellow
1,1 ± 4%
1,0 – 2,0
Dilute the concentrate with the water in a ratio from 1:99 to 1:9 (1-10%) depending on the amount and type of deposits. Pour the solution into the cleaned container or pipeline for 3 - 5 hours depending on the degree of deposits. Remove slag after cleaning and rinse with water. The use of centrifugal pumps is effective to speed up the cleaning process.

The conditional payback period for flushing heating systems is 5-6 months as a rule assuming electrical power savings only. Take into account an additional savings by normalization of the heat supply regime.


Storage and transportation:
Store in a cool dry place at temperatures from +5 ° C to +35 ° C in a tightly closed container, away from direct sunlight. Freezing, precipitation is allowed. Transport by any means of transport guaranteeing the integrity and safety of the package. Neutralize the spent solution with alkali or soda to neutral pH values (6.8-7.5) then dilute with water 2-3 times and send it to the treatment plant. The components are biodegradable and non-toxic.
DANGEROUS. Contains strong acid. Causes skin irritation and serious eye damage. Use rubber gloves, glasses and other personal protective equipment. In case of contact with skin and mucous membranes of the eyes, rinse with plenty of water and, if necessary, consult a doctor. Keep out of the reach of children. If spilled, cover the spill with soda ash and wipe it off with a cloth or sponge. Do not use with aluminum and non-ferrous metals, marble, concrete, chrome-plated, nickel-plated and enamelled surfaces.
24 month in unopened packaging from the date of production.