Univeco-100
Ceramic spray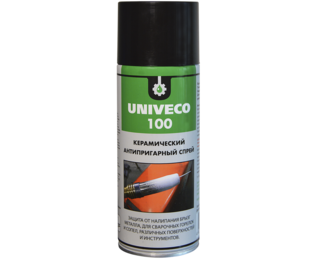 Univeco-100 is ceramic non-stick spray designed to protect welding torches, gas nozzles, tips and other parts of welding machines, other surfaces and tools from adhesion of splashes of molten metal and combustion products.
When sprayed onto the surface, it forms a white thin ceramic film with anti-adhesive properties that dries in a few seconds. Univeco-100 increases the service life of the gas nozzle and the internal parts of the torch and greatly facilitates their cleaning providing reliable protection for manual and automatic welding, as well as for plasma and laser cutting.
Price
Packing
0,4 L (aerosol spray can)
Delivery
We carry out delivery throughout Russia by any transport company convenient for you.
FREE SHIPPING on purchases оver 100 liters batch. Special conditions for regular customers.
Delivery department:
8-800-550-18-78
Excellent non-stick effect with stable protection against splashes adhesion on the surface of metal parts;
Maintain persistence when exposed to high temperatures;
Effective economy of consumption since it is applied 1 time within 8-12 hours;
Extends the life of consumable parts when sprayed on the torch head and makes it easier to clean;
High wear resistance of the applied film significantly increases the intervals for cleaning the gas nozzle and ensures the continuity of the welding process for a long time without the need to reapply;
Product saves time, reduces costs and increases productivity in heavy-duty applications when it can be manually sprayed during automated welding;
Application of spray Univeco-100
Shake the can well before use. Treat the surface evenly with a thin layer from a distance of 15-25 cm. Start welding after the layer has dried. Apply the coating empirically to the thickness required to achieve the specified heat exposure.
Keep the container away from sparks!
Turn the can over after application and press the valve to clean.
Danger! Flammable aerosol. Pressurized cylinder. Do not heat above 50 ° C.
36 month from the date of production

DELIVERY from 100 liters - free