Desolite Bio antiseptic gel
Antibacterial cleansing hand gel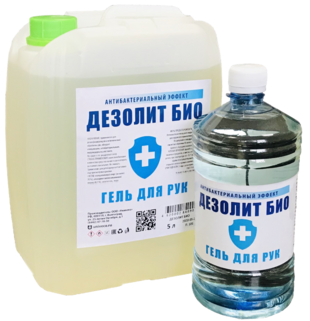 Desolite Bio is a ready-to-use cosmetic cleansing gel sanitizer with an antibacterial effect in the form of a composition based on a water-alcohol solution with the addition of softening, biocidal and thickening additives. It is used as a skin antiseptic for disinfecting and hygienic treatment of hands. Desolite Bio gel has a cleansing, antibacterial, virucidal effect. Does not dry or irritate the skin.
Price
Desolite Bio antiseptic gel
Packing
0.5 L (PET bottle with dispenser)
0.5 L (PET bottle with flip top cap)
1 L (PET bottle)
1 L (PET bottle with dispenser)
5 L (canister)
10 L (canister)
Delivery
We carry out delivery throughout Russia by any transport company convenient for you.
FREE SHIPPING on purchases оver 100 liters batch. Special conditions for regular customers.
Delivery department:
8-800-550-18-78
Antiseptic effect against a wide range of bacteria, viruses and germs;
Ease of use, does not require rinsing;
High concentration of active substances (70% isopropyl alcohol, 0.1% benzalkonium chloride);
Reliable long-lasting antimicrobial activity up to 3 hours;
Ready to use hand disinfection, does not require any water and soap!
Appearance:
homogeneous gel-based substance without foreign inclusions
Density at 25°C, g / cm³:
0,865 ± 5%
рН (1% aqueous solution):
8,0-10,0
homogeneous gel-based substance without foreign inclusions
not standardized
865 ± 5%
8,0-10,0
Apply a small amount of the product to the skin and rub in until completely dry. Do not rinse. Use for children is only under adult supervision. See instructions for details.
Attention! Highly flammable, keep away from fire and excessive heat. For external use only, do not swallow. Avoid contact with eyes and mucous membranes. In case of contact, rinse thoroughly with water.
The container must be recycled or disposed of as household waste.
Storage and transportation:
Store separately from medicines, in places inaccessible to children, at temperatures from -15°C to + 35°C. Transportation is possible by all means of transport in accordance with the rules for the carriage of flammable liquids containing isopropyl alcohol, valid for this type of transport and guaranteeing the safety of the product and container.
The shelf life of the product in an unopened manufacturer's packaging is 36 months from the date of production.

DELIVERY from 100 liters - free