Univeco SOZ-C10
Semi-synthetic cutting fluid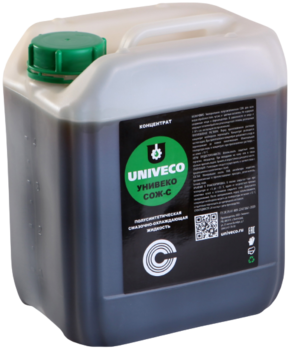 Univeco SOZ-C10 is a universal semi-synthetic cutting fluid for light-duty machining of steel, cast iron and non-ferrous metals. Allows to increase cutting speed, surface finish and tool life. Contains anti-corrosion and bactericidal additives.
Price
Packing
1 L (bottle)
5 L (canister)
10 L (canister)
20 L (canister)
30 L (canister)
200 L (barrel)
Delivery
We carry out delivery throughout Russia by any transport company convenient for you.
FREE SHIPPING on purchases оver 100 liters batch. Special conditions for regular customers.
Delivery department:
8-800-550-18-78
Does not contain chlorine and boron compounds, secondary amines, formaldehyde emitting substances, sodium nitrite;
Excellent emulsion stability;
Protects well against corrosion when using the recommended concentration;
Appearance:
homogeneous liquid
Density at 25°C, g / cm³:
930 ± 10%
pH (1% aqueous solution):
8,5–10,0
homogeneous liquid
light brown
10
930 ± 10%
8,5–10,0
The liquid is diluted with water to a working concentration depending on the type and operation of metalworking. The dilution rate of the concentrate is 3-10%. Shake the canister before dilution.
Storage and transportation:
Store in a tightly closed container at temperatures from +5 to +35 ° C, away from direct sunlight and sources of open fire. Freezing is allowed. After freezing, before use, the concentrate must be heated to a temperature of at least + 15 ° C and thoroughly mixed until smooth.
Utilization is carried out according to generally accepted methods (thermal, mechanical, reagent, etc.), recommended for water-miscible semi-synthetic cutting fluids.
24 month in unopened packaging from the date of production.

DELIVERY from 100 liters - free